You know it's con season, as it is one of the rare times I come out of my cave.
I'll be heading to San Diego comicon. from July 23rd to the 27th, once again to help at the Flight table (#1228).
Flight 5 will debut at comicon, and if you want a sample of the stories, Newsarama will be posting previews of stories on its site.
So far, we have Michel Gagné's continuing Rex Saga- and it seems to become more epic with each books if it is at all possible:
[link]
Newcomers to Flight: Paul Rivoche
[link]
And Svetlana
[link]
and returning european artist Kness, with once more a very poetically visual tale:
[link]
Flight 5 will have stories for all ages. Keep checking back Newsarama for more previews.
-----------------------------------------------------------------
On the Avatar front, we're now less than a week from it returning on the main Nickelodeon channel. This time, this is it: the grand finale. Starting Monday, July 14th with the Western Air Temple, there will be one new (or fairly new, for those of you who haven't bought the 3rd DVD of the Fire Chapter) episode each night that week and ending on Saturday, July 19th with a two hours special: episodes 18 to 21 shown back to back in one big film like event.
It's actually ending. The end. Finito.
There will be an Avatar panel at San Diego Comicon- on Friday, July 25th at 7:30pm. The last two episodes of the finale will be shown again (20-21), but also other surprises. More details about it should be made public on the SDCC website very soon.
[link]
EDIT:
THE AVATAR PANEL WILL TAKE PLACE IN ROOM 6CDEF
Unfortunately, if you hadn't planned in advance, the four day badges, plus Friday and Saturday are now sold out.
To celebrate the end of Avatar (for it should be a joyful send off), anyone cosplaying as Avatar characters who will stop by the Flight table (The number again: 1228) will get a free "Water Tribe" mini comics from me while I have copies available.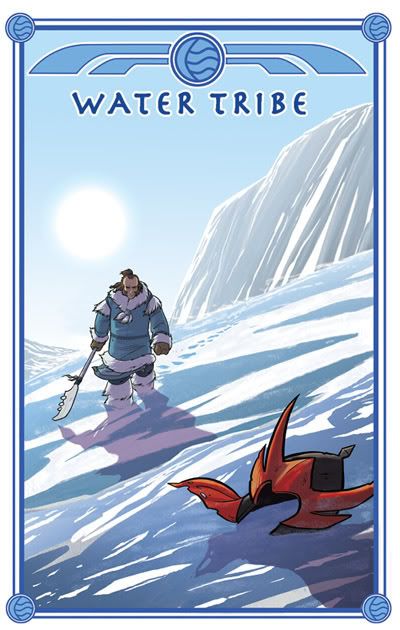 Wondering what it is and you can't attend the con? Well, this is another of my mad avatar brain rot project. Don't ask... But you can read all the pages here:
[link]
Starting right here, on page one:
[link]
The

club has graciously hosted the pages, and there are more pages to read there than in the mini comic. Not counting that there are more coming!
Avatar brain rot. No known treatment for it, just let time do its work.
---------------------------------------------------------------
Time for me to return to my cave. Though I will try and poke my head out again sometime next week, as Avatar will be on its last stretch.
:thumb33082137:
------------------------------------------------------------------------------
CLUBS