The madness starts in two days!
I always count Preview night now: even just that one Wednesday evening is filled with people.
I'll be spending most of my time at the Flight booth (2329, see plan below).
The new volume of Flight will be available.
Anyone in avatar cosplay that comes to visit us, I'll have a little surprise to give out.
I doubt if I'll manage to catch many panels, but I'd like to see the Penguins of Madagascar one. Since I worked on the show, could be fun to see if they have new material.
The full program schedule is available at the SDCC official website:
[link]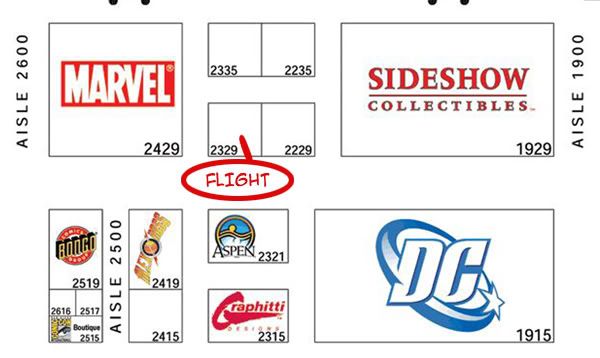 -------------------------------------------------------------------------------------------------------
The show is overflowing with supremely talented artists, some of them right here on DA.
I'll update this list with new names and tables as I get them, so keep checking!

,

and

will be at the Blatant Comics table (#1328).
Bobby Rubio (ex-Avatar story artist, now Pixar story artist...what can I say, he is awesome)

will be at table #1943 with his new book 4Gun Conclusion.
Sean Galloway

will have a brand new sketchbook out- each one of them IS a must have!
He'll be at #2544, along with Ryan Benjamin

(awesome gallery, go visit now!)
Complete floorplan of the event, courtesy of

, who will have his beautiful books for sale at table H-5
[link]
He'll be right close to

, table H-6.

will have books and prints over at table E-11
-------------------------------------------------------------------------------------------------------
Though there doesn't seem to be any Avatar related panels during the event, there is something Avatar related happening! This message was sent by Bryan Konietzko to the folks at Avatarspirit.net:
"Mike and I are excited to announce we will be doing a signing at this year's San Diego Comic Con, currently scheduled for 4:00 - 6:00 on Saturday afternoon, July 25. We will be filming a documentary on the making of the television series, and we'll be taping our interactions with people while they get their new ATLA SDCC '09 posters signed (which I am drawing right now!). The producers of the documentary will be pulling certain people who make a great impression aside to film "testimonials" about what the series has meant to each of them. Also, we'd love to film people in their best "Avatar" costumes, new or old, earlier in the day on Saturday. We're not sure if there is already a cosplay gathering planned, but it would behoove us greatly if people could gather at a specific time and place on Saturday, dressed to impress! Bring your favorite fan art, puppets, whatever you want to show to the documentary crew. Thanks! See you in San Diego! -Bryan"
Original message on the Avatarspirit.net main page:
[link]
The plan, so far:
AVATAR COSPLAY MEET-UP:
Date: Saturday July 25, 2009
Time: 12 noon- 2pm
Place: Across Ballroom 20D
Keep looking at the

page for updates and news about the meet-up.
Note the time of the meet-up MAY CHANGE, so check back to be up to date.
Keep checking back on

's journal, as she will certainly have important infos about the event too.
------------------------------------------------------------------------------
CLUBS